Medellín, Colombia — Facing bankruptcy, Colombian budget airline Viva Air announced on Monday the suspension of all its operations nationwide. Thousands of travelers were left stranded at airports across Colombia as well as in Argentina, Brazil and Peru.
On Wednesday, Viva Air president Francisco Lalinde told Blu Radio that refunds for cancelled flights would not be processed, claiming that the value of the tickets would be wiped off as debt should the company go into liquidation.
The airline has blamed the Colombian Civil Aviation Authority (CCAA) for disregarding its urgent requests for assistance. In Monday's official statement, the airline explained:
"Today the Colombian Civil Aviation Authority issued a statement recognising the interest of several third parties in Viva's urgent request to allow its merger with a larger and more stable airline group. This is an unprecedented decision from the entity and will result in further delays in reaching a decision. Viva is regretfully forced to announce the suspension of its operations with immediate effect."
Since late last year, Colombian airline Avianca has been attempting to acquire Viva Air. However, the CCAA has so far stood in the way of the merger, declaring the nullity of the process. In January 2023, the CCAA cited "a procedural irregularity" that invalidates Avianca's acquisition. Since, the aviation authority has accepted five foreign companies as "interested third parties." These include: LATAM Airlines, Wingo, JetSmart Airlines, Aerolíneas Argentinas and Ultra Air.
In response, Viva Air has alleged that "the Colombian government will have privileged the interests of airlines managed from Argentina, Chile, Panama and the United States, over Viva itself" if the CCAA fails to act before the budget airline disappears.
Yet, Viva Air remains in a position of visible weakness. Just last week, Félix Antelo announced his resignation as president in an internal message to his colleagues.
On Wednesday, Colombian President Gustavo Petro held a meeting with government officials on how to address the crisis.
Airport chaos
On Monday afternoon, thousands of domestic and international travelers reported cancellations, claiming that Viva Air had grossly mishandled the situation.
José María Córdova Airport, the airport in Rionegro which services nearby Medellín, reported that at least six Viva Air flights were cancelled. Similarly at El Dorado International Airport in Bogotá, angry customers claimed there were at least 500 travelers stranded.
There have also been reports of cancellations in Barranquilla and Cali.
Customers have complained that Viva Air are refusing to cover costs of food and overnight stays, putting their wellbeing at risk. Others have stated that they were only informed of the cancellations minutes before boarding would have commenced.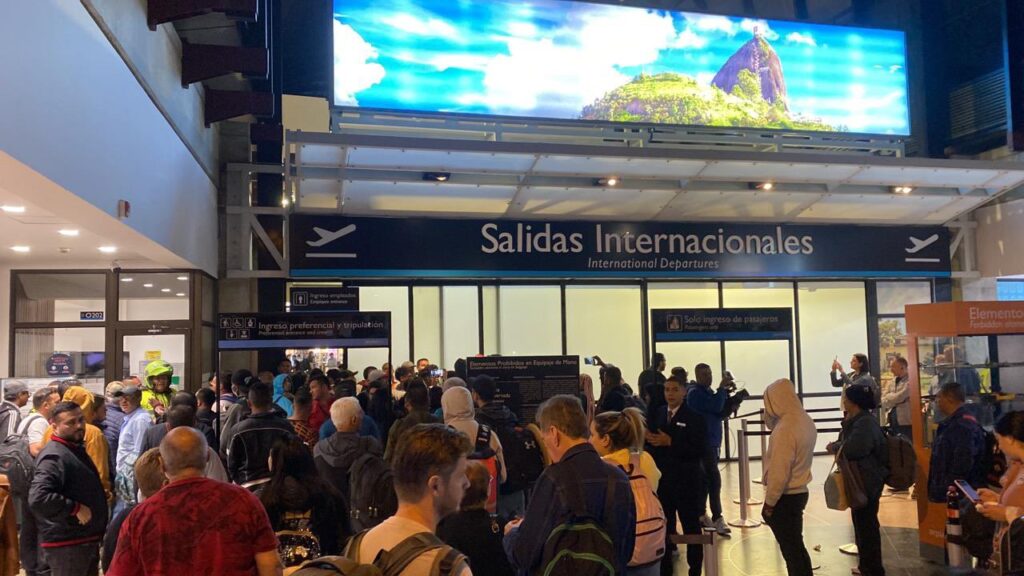 One passenger, Magaly Trujillo, was stranded in Lima as her flight to Bogotá was cancelled when she was already in the boarding area. She told Colombian daily El Tiempo, "The only thing they tell us is that the flight is cancelled and that they are only responsible for the cost of the ticket. Here there are families with small children, with elderly people, people who had connections, others who are going to lose their holiday in Colombia. What they are doing is stamping them with the migration stamp so that they can leave and buy a ticket on another airline, but there is no immediate availability."
On Tuesday, the CCAA met to evaluate response actions for passengers who are currently stranded at airports. LATAM and other airlines have now offered to take these travellers on board.
Meanwhile at Jose Maria Cordova International Airport, Viva Air employees have joined angry customers in their protests by the check-in areas and outside the airport. It remains to be seen whether the CCAA will provide Viva with a lifeline.