Venezuelan self-declared interim president Juan Guaidó has announced that a second humanitarian aid centre will open up in the Brazilian border town of Roraima.
The new centre for aid distribution will be the second-largest after the existing warehouse in the Colombia-Venezuela border town of Cúcuta. There, humanitarian aid sent by the US has been waiting to cross the border into Venezuela for delivery since last Thursday, February 7, due to barricades put in place on border routes by President Nicolás Maduro.
The US aid sitting on the Venezuelan border with Colombia – worth approximately US $20 million – which according to Guaidó consists of food and medicines, has now been assigned a new target entry date.  
The moment that the aid convoy arrived to Colombia's border with Venezuela. pic.twitter.com/ir4IaqT3Ql

— Joe Parkin Daniels (@joeparkdan) 7 February 2019

Humanitarian aid arriving in the border town of Cúcuta.
Despite Maduro's steady refusal to allow it to enter the country, Guaidó is now hoping to be able to push through the "avalanche" of humanitarian aid into Venezuela on February 23.
"Today the war that Venezuela is fighting is the war against hunger, the war against misery. It's the fight against a healthcare system that is absolutely inefficient," he told the public in an address on February 12.
Lester Toledo, the opposition member Guaidó has entrusted with distribution of humanitarian aid, met with Brazilian Minister of Foreign Affairs Ernesto Araujo this Monday, February 11, together with Guaidó-delegated Venezuelan ambassador to Brazil Maria Belandria.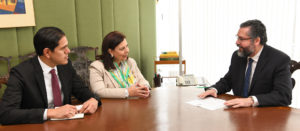 According to statement published by the Brazilian Ministry of Foreign Affairs, the leaders discussed possible ways to increase awareness of the shipment of humanitarian aid from Brazil to Venezuela, in order to "alleviate the suffering the Venezuelan people are subject to under Maduro's illegitimate regime."
Belandria is currently living in a hotel in Brasilia, thanks to crowdfunding from supporters. She is also being transported to meetings by Venezuelans that live in the city, signal tweets from Brazilian daily O Globo journalist Janaína Figueiredo.
Despite his decision to withdraw from the UN's Global Compact for Migration in January of this year, President Jair Bolsonaro was among the first leaders to recognise Guaidó's authority as interim president. However, the Brazilian president is yet to publicly comment on plans for the new aid distribution centres.
Although exact figures are difficult to define because of unregistered entry, a 2018 UNHCR report reveals that 199,365 Venezuelans entered Brazil in 2017 & 2018 through the Roraima border region. This works out to an average of around 275 people entering per day.
Shortly after the announcement of Roraima's new aid distribution centre came the news that Guaidó and his team also plan to open a third on the Dutch Caribbean island of Curaçao, which will be facilitated by The Netherlands and supported by countries such as the UK.
Yesterday, February 14, the Global Conference on the Humanitarian Crisis in Venezuela took place in Washington DC, with over 60 countries invited.
According to announcements by Guaidó, over US $100 million has now been pledged to go towards humanitarian aid for Venezuela from countries all over the world, including the UK, Germany and Puerto Rico.
On his social media, President Maduro has made no comment on the plans to open up new humanitarian aid distribution centres, continuing to post about his plans to recover the country. In interviews, he continues to maintain that the promise of aid is merely a "charade," to disguise US military intervention in Venezuela.
As the pressure mounts and the deadline for Venezuela's #HumanitarianAvalanche approaches, Guaidó and his team continue to reassure the people of Venezuela that help is on the horizon using the Twitter handle #VamosBien. In the meantime, ensuring that it stays out could be make or break for Maduro's government.
Having worked in newsrooms in both Bogotá and Rio de Janeiro, Sophie is a British journalist now based in Medellín and writing for Latin America Reports. She is interested in post-conflict Colombia, historical memory and transitional justice in Latin America. Her work has also been published by Al Jazeera English, World Politics Review, El Tiempo and O Globo.