On Tuesday October 2, Ecuador's president, Lenin Moreno, announced a decree that would cut fuel subsidies that have been in place for four decades. On Thursday, Ecuadorians responded to the announcement by staging massive protests that paralyzed the country, forcing Moreno to declare a nationwide state of emergency.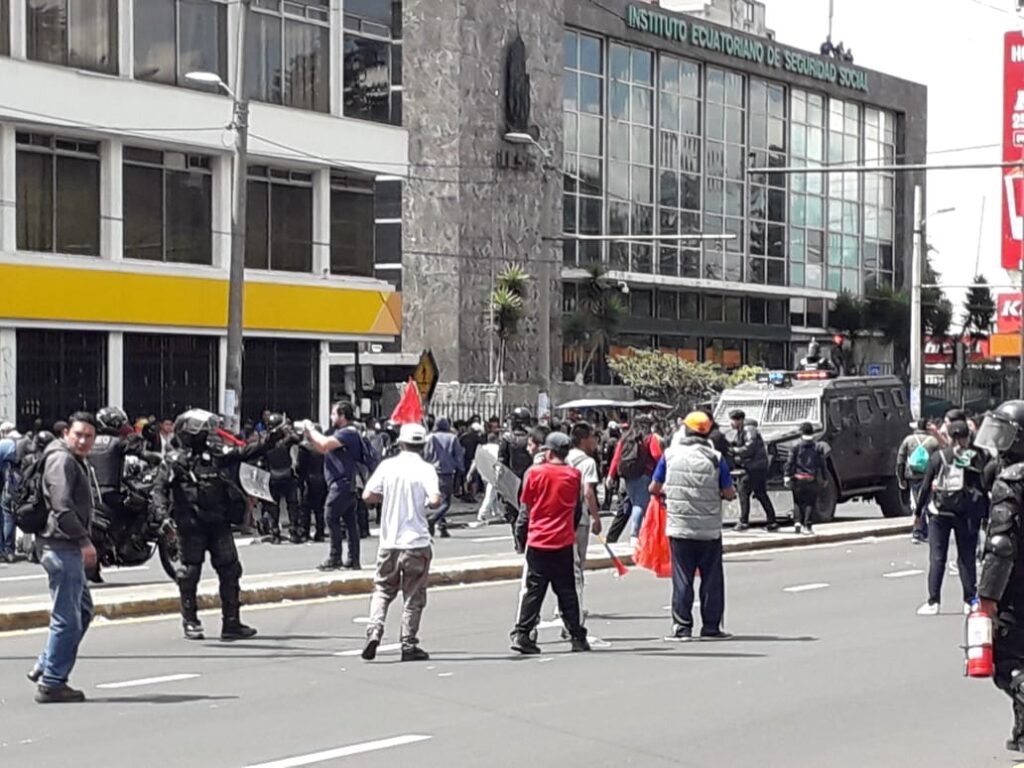 El Pais reported that the removal of fuel subsidies will raise the price of petrol by approximately 37 US cents per gallon, and the price of diesel by up to $1 per gallon, which will save the government $1.4 billion a year. 
These cuts form part of continuing austerity laws implemented by the Ecuadorian government to comply with International Monetary Fund (IMF) requirements after receiving a $ 4.2 billion loan. If the government does not cut public spending, the IMF can delay or cancel payments of the loan.
After Moreno's announcement, El Pais reported that transport unions held a complete strike by blocking roads with buses and taxis, while people took to the streets to demonstrate against the government. Transport unions have since stopped their nationwide strike, but protests still continue.


"They were throwing tear gas as if it were free," described Daniel Solis, a 30-year-old cultural manager who lives in Quito. According to Solis, the protests were peaceful until the police started throwing tear gas, at which point the protesters retaliated by throwing stones. On the evening of Friday October 4, according to Solis, the authorities started shooting pellet guns at the crowds at point-blank range. One protester who was hit is now in danger of losing an eye, Solis said.


Speaking to Latin America Reports, he also weighed in on what he thought was at the root of the protests.
"The media is lying – this has nothing to do with petrol," Solis said. "The people who are on the street about to get killed by police officers aren't transport unionists or vandals. They are young people who want to live in a country full of opportunities for everyone."
Moreno's response to the protests has been steadfast. Under no circumstances will he repeal the decree, nor "negotiate with criminals," he said at a press conference on Friday. On Monday, he moved his government from the capital of Quito to the port city of Guayaquil as a result of the protests.
"This [situation] is only going to calm down when the President leaves," Solis said. "One way or another, the definitive solution is a change of government."

According to Reuters, since the protests began, authorities have arrested 477 people, 28 police officers were injured, and protesters have destroyed a dozen ambulances and public property.
The Confederation of Indigenous Nationalities in Ecuador (Conaie), which promotes indigenous rights, often through popular uprisings, have declared their own state of emergency and according to their Twitter, have detained military and police officers and will subject them to "indigenous law."

Indigenous groups have blocked roads in the countryside and according to the BBC, thousands are already in Quito preparing for more protests and a national strike this Wednesday, October 9.