In a sport where debate rages endlessly over who the greatest of all time is, opinions vary and a person's answer depends largely on their nationality and age.
Conjecture and subjectivity too often cloud talks of football and its best players.
But when it comes to Diego Armando Maradona, who died Wednesday at the age of 60 after having suffered a heart attack, there are a pair of takes that have been virtually solidified into universal truths at this point.
The first is that Maradona had the greatest sustained performance of a single player that the sport has ever seen. His play at the 1986 World Cup in Mexico, which earned him a Golden Ball for the tournament's best player, carried a mediocre Argentina team to glory for the country's second World Cup trophy. Despite Argentina's poor form ahead of the tournament, Maradona's five goals lifted Argentina to the improbable title win.
The second widely accepted truth is that Maradona is the author of the greatest World Cup goal of all-time, which came in that same '86 tournament. In the quarterfinals against England, following his infamous "Hand of God" goal, Maradona took the ball a few yards behind the midfield line and dashed through a half-dozen English defenders. With the ball looking like it had always been an extension of his left foot, he topped off an astonishing run that play-by-play announcer Victor Hugo Morales memorably called a "cosmic kite."
"What planet did you come from?" Morales then screamed.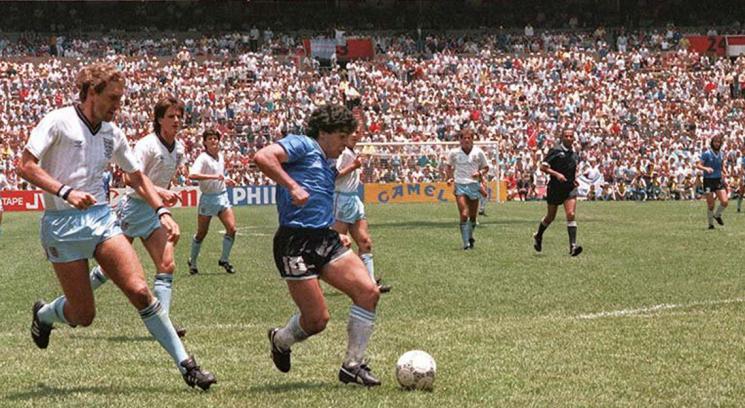 Born into poverty in a rough part of Buenos Aires, the diminutive Maradona set about an unbelievable path that kids around the world have dreamed up for themselves ever since.
Inarguably, Maradona is one of the four or five most gifted football players in human history. And while cases can be made for Lionel Messi, Pele, Cristiano Ronaldo and Johan Cruyff as the single greatest, only Maradona checks all of the major boxes that we use to measure greatness in the sport: World Cup triumph, major European club titles and individual awards like the Ballon d'Or.
During his decorated career with Italy's Napoli, where he scored 115 goals and won two league titles and a UEFA Cup, he exceeded the enormous expectations that the club's fans had put on him when he arrived. With Argentina, he played in four World Cups, scored 34 goals and forever became a deity in the eyes of Argentines.
In retirement, Maradona remained a dominant figure in the headlines with his lifestyle marred by drug use and controversial behavior. As a manager, he had a number of largely unsuccessful stints at smaller clubs throughout the world. His most notable spell as manager came for his native country where he oversaw a disappointing World Cup 2010 result in which Argentina was blown away 4-0 by Germany in the quarterfinals, despite having Messi on the pitch.
Both on the pitch and off, Maradona will be remembered as a man who dominated the sport in a way that only he could. His larger-than-life persona coupled with his boyish love of the game to create an unparalleled footballing legend.
With news of his death on Wednesday, Argentina declared three days of mourning for Maradona.
He may not have come from another planet – we think – but Maradona leaves this one with an undeniable imprint on the world's game.