With venture capital investment rates in Latin America down to $563M in Q1 2023, those unfamiliar with the region may wonder why there's been such a drawback. 
Although it's undeniable there's been a steep drop in investment, it isn't down to a lack of potential in the region. Rather, the economic instability that's playing out globally is causing investors to play a much more cautious hand than in previous years. For LatAm – a region that has relied heavily on foreign capital – a general trend of investors prioritizing their existing portfolio companies and geographies closer to home had a sizeable impact on overall investment figures.
In reality, 2023 has seen a number of industries continue to show positive signs despite the reduced amount of investment capital. What's more, areas such as e-commerce, marketplaces, and B2B SaaS are still at much earlier stages of adoption and penetration in comparison to markets like the US, meaning they still offer plenty of runway for growth.
To learn more we spoke with Diego Noriega, Managing Partner at early-stage Latin American fund Newtopia VC, to gain his insights on how growth trends in LatAm are likely to pan out across three industries that have caught his eye with their potential in 2023.
1. Online commerce continues to consolidate and diversify
Although the pandemic drastically accelerated the adoption of online sales globally, the impact was particularly significant in LatAm. In April 2020, right after the pandemic started, e-commerce revenue increased 230% in the region. While online market sales in other geographies cooled rapidly after the pandemic, LatAm is still firmly on the up, and experts predict that trillions of dollars of value will be created if LatAm catches up to the penetration rates seen in the US and China.
This can be seen playing out in the most recent sales figures from regional e-commerce giant Mercardo Libre. While its United States equivalent, Amazon, has been cutting jobs in light of tough market conditions, Mercado Libre is firmly on the up: E-commerce sales grew by 21.5%, reaching $34.45 billion in 2022, with remarkable growth in Brazil and Mexico driving much of these gains; and the e-commerce giant added 13,000 new jobs in April.
Within this, social commerce is growing in popularity, creating an even more diverse landscape for sales in LatAm. In Mexico, social commerce sales grew by 42% in 2022. In Brazil, it's expected to grow by 44.9% on an annual basis and is predicted to surpass e-commerce here in the near future.
"As this trend gains momentum in the region, we witness a remarkable growth of platforms creating a dynamic ecosystem for sellers, micro-influencers, and content creators," commented Noriega.
Social commerce is already enormously popular in markets such as China where live-stream shopping generated $132 billion of sales in 2021. And it seems that major international brands are already eyeing the potential of LatAm, with TikTok accelerating expansion of Shop in the Americas to Brazil and Shein actively recruiting for growth roles in both Brazil and Mexico.
Yet Noriega believes that local players have a unique role to play in the growth of social commerce.
"What's truly exciting is how regional startups are playing a crucial role in shaping the future of social commerce by addressing specific gaps and pain points unique to each country or segment. We're actively investing in companies like For Me, a micro-influencer network for beauty products, and Beu, a platform that helps creators monetize their careers," said Noriega.
"Drawing inspiration from the success stories of emerging economies like China and India, Latin America has all the ingredients to become a thriving hub for social commerce. It's a race to see who emerges as the winner in this exciting arena," he concluded.
2. B2B Marketplaces remain largely untapped
Though the online infrastructure for consumers has rapidly matured in the last few years, B2B transactions in LatAm are still mostly reliant on traditional analog sales processes, with orders and payments flowing via email, SMS, fax, and paper check.
Understandably, this creates inefficiencies for both suppliers and buyers across the supply chain. Solving this with smooth, online marketplaces for B2B transactions will provide significant value to the market. A study from McKinsey found that 50% of B2B decision makers in Brazil are open to making new, fully self-serve or remote purchases in excess of $50,000, and 21% would spend more than $500,000.
"Vertical marketplaces are going to replace much of Latin America's B2B economy, bringing it online and disrupting legacy supply chains and suppliers. Analog processes require lots of manual labor and often put large distributors at an advantage. Online wholesale marketplaces will help to solve many pain points and help smaller businesses (both suppliers and buyers) during current economic challenges," said Noriega.
"We come from behind in terms of the industry's transformation, yet a number of companies are already addressing the need to transform the industry. Nuqlea is doing a fantastic job in orchestrating its product-market fit for Argentina's construction ecosystem, with plans to expand to Brazil. Alephee is helping the autoparts industry to increase the digitalization of the whole value chain, with fantastic metrics in Brazil and rapid growth in Mexico," Noriega continued.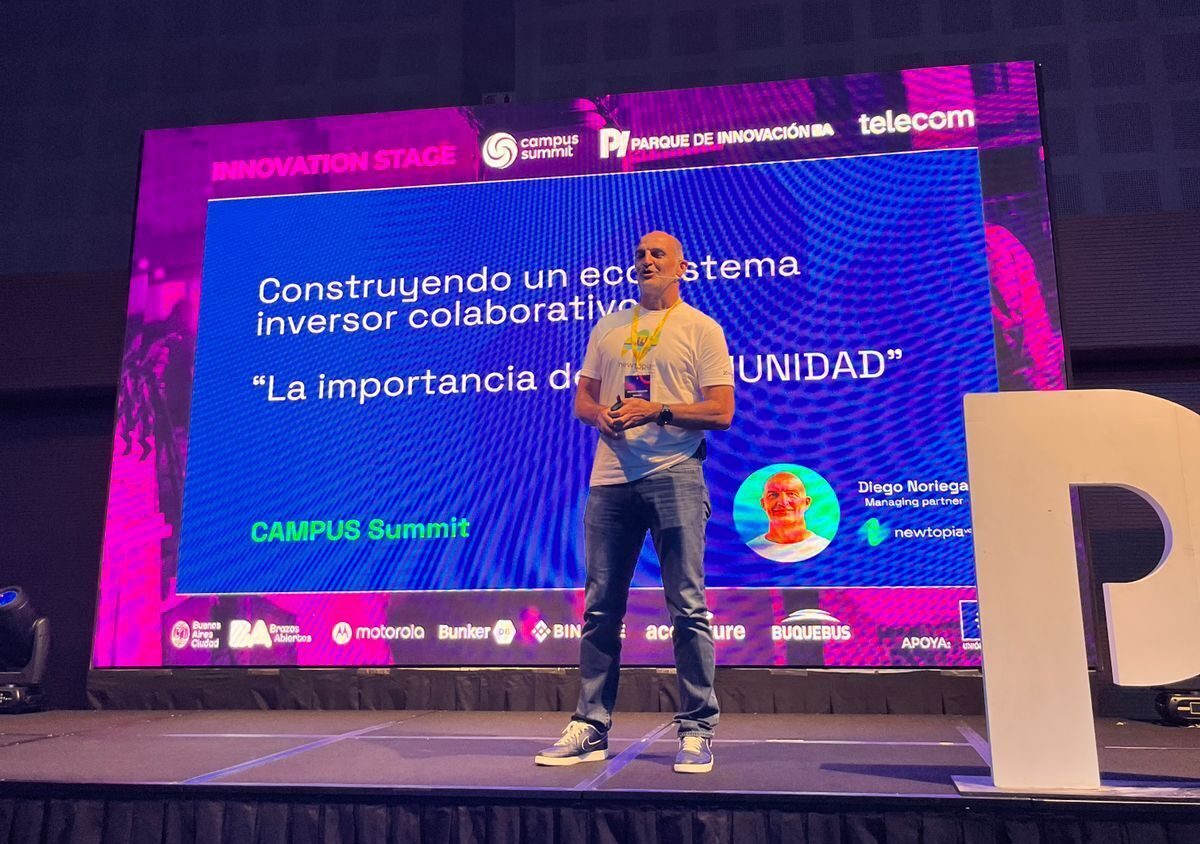 As B2B marketplaces mature across Latin America, it's likely that multinational brands will increase their presence in the region. Kraft Heinz Co recently announced it will offer its products through BEES – Anheuser-Busch InBev's online marketplace – to drive product adoption in Latin America, particularly in Mexico, Colombia, and Peru.
"The fragmentation and analog nature of LatAm's B2B supply chains, in general, have limited their ability to operate more internationally. As new online marketplaces modernize these supply chains and bring in new efficiencies, multinationals will be all too keen to tap into these emerging markets," Noriega advised.
While the current climate makes fundraising harder, early-stage investors like Newtopia see the huge potential of B2B marketplaces and are instead looking to help portfolio companies build sustainable business models and refine their product-market-fit to lay the groundwork for the future.
3. Pressing need for B2B SaaS solutions
Globally, most organizations are used to adopting some combination of B2B SaaS solutions to streamline and modernize workflows like finance administration or human resources (HR). Yet in LatAm, the adoption process in B2B has been more cautious.
Much of this comes from habit and tradition, further supported by low labor costs that make it harder to persuade a decision-maker to switch over from manual processes to a new software tool. As a result, fast-growing US B2B companies with well-oiled and tested sales machines often find sales stalling upon expansion into the region.
Yet Noriega believes this is soon likely to change as the industry across LatAm matures.
"B2B SaaS solutions have the potential to drive transformation across various industries in the region. With their business models rapidly becoming more predictable and less risky, they have caught the attention of US investors looking towards Latin America," shared Noriega. 
Many rising stars are highlighting the investment potential of B2B SaaS in the region. Mendel, a Mexican B2B corporate spending management solution, just closed a $60M funding round. And in Brazil, where the market is expected to reach $80 billion in 2023, cloud sales are expected to get a further boost from the launch of EBANX's new high-value-ticket automated payment system. Its solution will help global and regional companies to sell cloud, ERP, IT services, or SaaS subscriptions across Latin America, tapping into the $2.9 billion investment in data projects in Brazil. 
"These types of companies are asset-light and typically have a clear path to profitability from their inception, which is particularly crucial in the current context where investments have decreased by 50% year over year. These factors make B2B SaaS in Latin America an attractive prospect for investors seeking stable returns and growth potential in the region," he concluded.
New horizons for investors in LatAm
While there's no doubt that a sharp drop in international investment has been an additional challenge for companies across Latin America there are many sectors that look set to buck the trend. From the captive audience of social commerce, the potential of marketplaces to transform wholesale buyers processes to the asset-light potential of B2B SaaS, the region offers investors a number of opportunities to find attractive deals with huge long-term growth potential.
This article originally appeared on The Sociable, an ESPACIO media partner publication.
Disclaimer: This article mentions a client of an ESPACIO portfolio company