A total of 106 political prisoners have now been freed in Nicaragua after a controversial amnesty law was passed by Congress on June 8, granting freedom to those who participated in last year's anti-government protests, including both demonstrators and police.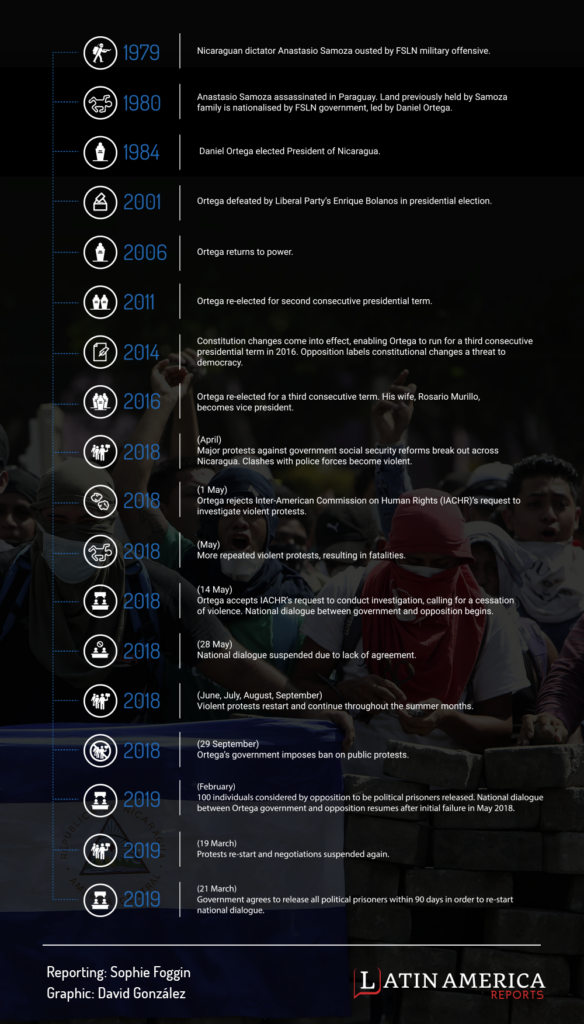 The law, backed by President Daniel Ortega's government, has provoked heavy criticism from U.N. High Commissioner for Human Rights Michelle Bachelet, who has publicly stated that it could "impede the processing of potentially responsible persons for grave violations of human rights."
Likewise, Human Rights Watch has also called for the United States to impose sanctions against senior Nicaraguan government officials responsible for committing human rights abuses over the volatile period, highlighting concerns over the lack of accountability they will assume as a result of the law.
This time last year, the streets of Nicaragua were violent and unpredictable due to continued protests against Ortega's administration and his government's social security reforms. Since they began, a government crackdown on the protests has resulted in over three hundred deaths and over one thousand injuries, according to the Inter American Court of Human Rights (IACHR). Human rights organizations are now concerned that the security forces and pro-government paramilitary groups responsible for these fatalities will not be held responsible.
Less than a year after the protests began, Ortega's government made a decision to free one hundred political prisoners, following pressure from opposition alliance, Alianza Cívica, with whom it had been in disrupted peace talks for months. Just over a month later, the government agreed to free all of those who remained behind bars within 90 days.
Now, just six days before the deadline of June 18 — set for the prisoners' release by the Organization of American States (OAS) — 86 opponents of Ortega's government are still due to be released, according to local digital newspaper El Confidencial.
Among the 56 political prisoners released yesterday was prominent student leader Edwin Carcache, social leaders Medardo Mairena and Pedro Mena, and journalists Miguel Mora and Lucía Pineda Ubau, all of whom "committed no crimes" and "were unjustly imprisoned," stated a press release published by Alianza Cívica.
Both Mora and Pineda Ubau belonged to the independent television channel 100% Noticias, which had been critical of the Ortega government and was consequently shut down by government authorities in December of last year.
Speaking to Al Jazeera English, Mora told the media outlet, "if [government authorities] steal our infrastructure, we will simply start again from the bottom. But of course we will continue, we will continue to inform the people."