Coming out of the Covid-19 pandemic the World Health Organization (WHO) reported that nearly 7 million people lost their lives to the disease, 42.5% of which (2,957,891) were in the Americas region alone.
Out of what is perhaps the greatest challenge to face humanity in a generation also came great innovation, collaboration and technological advancements in the field of healthcare. Perhaps the most obvious of which is the mass adoption of telemedicine, which has increased access to medical care for much of the population.
But other areas of healthcare, including in the Americas, have also been pushed to innovate, and many times, healthtech startups are leading this shift.
Data from the LatAM Tech Report shows that total funding raised by healthcare companies increased by 4,700% from 2015 to 2021 and according to projections from Oxford Business Group, by 2026 the Latin American healthtech market could reach a value of USD $5.6 billion. In 2021 alone, Latin American healthtechs raised more than USD $1 billion from investors, four times more than the previous year.
Of course, there remain many challenges. Latin America's healthcare systems are plagued by low access to healthcare compared to more developed countries, suffer from inadequate care where care is available, and are generally characterized by low per capita spending on health and wellness.
With this in mind, let's take a look at some of the leading healthtech companies operating in the region, and learn more about how they plan to make an impact on the LatAm healthcare and wellness space.
---
Alice
Operating since June 2020, Alice is today the largest Healthtech company in Brazil and defines itself as a health manager whose mission is to make the world healthier. Alice's portfolio of partnerships includes hospitals, testing laboratories, and an extensive network of accredited doctors, all available 24 hours a day through the app. Recently, the company increased its presence in the market by buying the client portfolio of its competitor QSaúde, increasing its revenue projection to more than BRL 250 million in 2023.
Alice's founding partners are Brazilians Matheus Moraes, who holds a bachelor's degree in Law from the Federal University of Minas Gerais; André Florence, who has a degree in Economics from Institute of Education and Research (Insper), and Guilherme Azevedo who graduated in Business Administration from Fundação Getúlio Vargas. The executives previously worked on other technology platforms before founding Alice. Matheus and André were on the team of 99, an urban mobility app and Guilherme was one of the founders of Dr. Consulta, a network of medical centers that offers consultations and exams at affordable prices.
---
Moons
Moons is a Mexican startup offering oral healthcare to its users.The company produces and sells transparent orthodontic aligners for those who need to correct the position of their teeth and who want to achieve a more harmonious smile, without having to resort to traditional and uncomfortable metal braces. The aligners are made of a flexible and customized material. All the patient needs to do is go through a consultation with a Moons orthodontist to capture the 3D image for the production of the aligner, which is delivered at home. According to the company, results can be obtained in 6 months.
The company was founded in 2019 by entrepreneurs Tommaso Tomba, Alexander Clapp, and Leonardo Miróna. In 2021, Moons raised USD $9 million to finance its expansion and today also operates in Colombia, Chile, and Peru with more than 22,000 patients served. Its growth is connected to the fact that Moons reportedly can offer its aligners at a price 50% lower than its competitors, and with a considerably lower treatment time.
---
Welbe Care
Aimed at the corporate market, Welbe Care Welbe connects more than 1,500 doctors and 700 laboratories and clinics, to the employees of the companies it serves. These employees are registered in a digital system shared with the human resources department of their company, allowing the health of the team to be monitored 24/7, through the integration of data generated by medical appointments, procedures, exams, etc. This close monitoring facilitates the early detection of possible health problems, anticipating the start of possible treatment or medical intervention.
Welbe Care was founded in Mexico, in 2021, by Brazilian entrepreneurs Eduardo Medeiros and Marcus Paiva who have lived in the country for almost 10 years. Despite the short time in operation, the company has contracts with multinationals such as Henkel, Redbull, Engiee, Enel, Jüsto, among others. At the end of last year, Welbe raised more than USD $5 million with support from angel investors and investment funds.
---
Sami
A Brazilian healthtech that acts as a digital health insurance operator, Sami works to serve mainly medium and small companies that cannot afford the high costs charged by traditional companies operating in the field. Due to its lean business model, the company is able to apply cheaper monthly fees. Sami has in its portfolio five accredited hospitals in São Paulo, in addition to partner doctors and laboratories, but its main focus is on telemedicine services, which account for 95% of the services registered by healthtech.
Founded in 2018 by partners Vitor Asseituno and Guilherme Berardo, the operator counts some impressive numbers. In 2020, Sami received an investment of BRL 86 million (USD $17 million) for business expansion. And on June 1, the company announced it raised another USD $18 million. Today, Sami has more than 18,000 people in its user base and expects to end the year with 27,000 and revenues of USD $24.5 million, thanks to a strategy of diversifying its product offering, starting to serve large companies as well.
---
Smart Doctor
Smart Doctor is a health operator focused on delivering solutions through preventive telemedicine and artificial intelligence as a health benefit to be offered by companies to their employees and families. The company's idea is not to replace a conventional health plan, but to add prevention and facilitate people's access to specialized care. Through the Smart Doctor platform, company employees can schedule appointments in a very simple way. It is also possible to share previous exam results and gather prescriptions and licenses.
Smart Doctor was founded in 2020 by Peruvian doctors Christian Rivera and Karen Salirrosas. The company has operations in Peru, Mexico, Colombia, and Brazil, where it began offering its services in May last year after receiving an investment of USD $1.5 million. The company's arrival in Brazil is part of an expansion project that aims to make Smart Doctor present in 10 Latin American countries by 2025. Companies such as Natura, Scania, and WeWork already rely on Smart Doctor services for their operations on the continent.
---
Liti
Liti is a weight loss app that provides customers with a complete chain of professional and personalized care for a successful journey. The company's focus is to reduce diseases associated with being overweight and ensure a better quality of life and well-being for its consumers. Within the platform, users make their periodic consultations with doctors, nutritionists, neurologists, and behavioral scientists, to jointly define the best diet plan for each patient. The tool also has a chat room available 24 hours a day to answer questions. All services are available for a monthly fee of BRL 700 (USD $143), which gradually decreases over time to BRL 150 (USD $30) after five months of use. When subscribing to the plan, the user receives a home bioimpedance scale, a food scale, and a tape measure to follow the treatment.
The Brazilian company was founded at the end of 2021 by doctor Eduardo Rauen, who specializes in nutrition and sports medicine and has been a member of the clinical staff of Brazil's esteemed Albert Einstein hospital since 2005; and economist Fernando Vilela, former CMO of Rappi in Brazil. Liti currently serves users in Brazil as well as a small group of users in Mexico and Colombia, but the company already has plans to expand its presence into other Latin American countries. In November last year, Liti received an investment of BRL 21 million (USD $4.3 million) to finance its projects.
---
1DOC3
1DOC3 is a health platform that works in partnership with companies to offer medical care to their employees and their families. The Colombian healthtech is able to offer unlimited and immediate consultations in various specialties such as general medicine, sexual health, pediatrics, dentistry, nutrition, and psychology. The appointments are unlimited and immediate, with an estimated wait time of less than one minute for the mobile app, or via the web. In addition, the company also offers additional services such as home delivery of medicines and even a doctor's visit at home if necessary. More recently, the Colombian healthtech has expanded its operations by also offering veterinary services.
1DOC3 emerged in 2014 as a website that provided medical information to users as a way to democratize access to health. Over time, however, the explosion of telemedicine made founders Javier Cardona and Nicolás Durán López see the possibility of converting the business into an online consultation platform. The healthtech has a presence in Colombia and Mexico, in the last round of funding raised in 2021, 1DOC3 raised USD $3 million for its expansion.
---
Pura Mente
Pura Mente is a meditation and mindfulness app available for download on iOS and Android devices. The tool has programs that help calm and train the mind and is recommended for relieving tension, reducing stress, lowering mental fatigue and anxiety, and improving rest and sleep quality. There are hundreds of meditation sessions and courses available, as well as different readings and a bank of relaxing sounds. The app is available in Spanish and has a free and paid plan with monthly fees of USD $2.99; an annual fee of USD $29.99; or a lifetime subscription for USD $89.99.
Pura Mente was founded in 2019 in Argentina by Martín Becerra, Nahuel Becerra, and Juan Hardoy. Becerra, the CEO, is a tech entrepreneur who has more than 12 years of experience in startups and technology companies. He had the idea to create Pura Mente after a trip to Asia, followed by a silent retreat in which he meditated 10 hours a day for 10 days. It was this experience that inspired him to share the benefits of meditation with as many people as possible. In just over three years of operation, the tool already has over one million users.
---
Cuéntame
Cuéntame is a digital platform dedicated to the emotional well-being and mental health care of company employees. The tool works with artificial intelligence (AI) to quickly identify, prevent and resolve psychosocial risks. Based on interactions users have with the platform, Cuéntame is able to measure stress levels and provide personalized mental wellness strategies and access to specialized psychological care. Working in partnership with enterprises that provide the platform to their employees, Cuéntame provides employers with completely anonymized data that helps employers assess burnout and other mental health issues in order for them to better provide the care their workers need and develop preventative measures that promote mental health.
The Mexican healthtech, founded in 2019 by Regina Athié, Omar Garcia, Fernando Chávez, and Enrique Jiménez, has already helped more than 64,000 people. Currently, Cuéntame has a presence in Mexico and Colombia and is investing in its expansion in Brazil and Chile. Its clients include companies such as Kavak, Nestlé and Biocodex. Last year, Cuéntame raised USD $1.1 million in funding.
---
TRAINFES
TRAINFES is a Chilean healthtech company that offers treatment for neuro-rehabilitation using a functional electrostimulation device developed by the company itself. Setting it apart from conventional treatments, TRAINFES enables therapy sessions to be carried out remotely via a cell phone app, considerably reducing the time and cost of travel to rehabilitation centers for patients. TRAINFES' equipment is designed to treat diagnoses such as cerebral palsy, stroke, spinal cord injury, and pelvic floor dysfunction, which can cause extreme pain in the pelvic region. The company offers all necessary support such as training and periodic monitoring to ensure the success of the therapies.
Founded in 2013 by engineering and biomedicine experts Matias Hosiasson, Moisés Campos Uribe, Sebastián Mardones, and Luis Campos, the startup maintains a large multidisciplinary medical team composed of physiatrists, kinesiologists, occupational therapists, clinical consultants, psychologists and other professionals. In January this year, the company expanded its operating area by opening its first rehabilitation center in the Chilean capital of Santiago.
---
Colorchain
Colorchain is a Colombian startup that specializes in designing and manufacturing clothing for healthcare and wellness workers. Instead of the one-size-fits-all approach by most medical clothing manufacturers, Colorchain aims to be different, offering healthcare professionals the opportunity to dress for work in safe, comfortable, but also beautiful, colorful, and personalized clothing with form fitting sizes for the individual. The company leverages its online platform to take customers' measurements. Colorchain is responsible for the entire production process — from the creation of the design and concept of the pieces to their manufacturing and distribution. To achieve this, the company relies on a workforce that combines vast knowledge with youthful exuberance, and 80% of Colorchain employees are female heads of household. The company's clothing can be purchased online, or in person at boutiques in Bogotá and Medellín.
Colorchain was founded in 2019 by Dr. Carolina Hernández. A doctor specialized in clinical epidemiology, Dr. Hernández also holds an MBA in Business Administration and Management. As a healthcare professional, Dr. Hernández knows the demands of the job well and has been able to personally contribute to every detail to make Colorchain a reference in clothing in the sector. The brand is registered in more than 35 countries, including in the United States, Europe, and also in the United Kingdom.
---
Sofía
Sofía is a Mexican startup that offers preventive and restorative health insurance plans for individuals, families, and companies of all sizes. By joining Sofía, customers will be covered for a multitude of medical treatments, including accidents and even more severe illnesses and hospitalizations. The plans also offer specialized visits with a family doctor, unlimited video consultations, access to emergency hospital care, laboratory tests, mental health consultations, nutrition, and other benefits. Everything is available to the user through the application built by the platform itself and plans start at USD $35 per month.
Sofía was created in 2018 by entrepreneurs Arturo Sánchez, Sebastián Jiménez, and Manuel Andere. During the early stages of the Covid-19 pandemic, the startup provided free video consultations in Mexico, which gave the founders an important perspective about the potential that technology could contribute to the healthcare space. In just a few years of operation, the company has grown to nearly 200 employees, and in 2021, projections indicated a turnover of USD $1.7 million, showing that the path to growth was already well paved.
---
Betterfly
Betterfly is a digital flexible benefits platform that turns healthy habits of companies and their employees into financial protection and social impact. Basically, employees of companies are encouraged to adopt a healthy lifestyle with physical activity, good nutrition, reading, and meditation, for example, so that they can obtain prizes and rewards such as online exercise classes, meditation, nutrition, therapy, and teleconsultations, among others.
Through a synchronization between the platform's app and activity monitoring apps such as Apple Health, Samsung Health, and Google Fit, among others, each healthy habit adopted by the user is registered by the tool and converted into "BetterCoins," tokens which the employee can use to make social donations of food and water, or even invest to increase the coverage of their life insurance. More than 3,000 companies already count on Betterfly's services, including delivery giant Rappi, Samsung, Natura, Ambev, and Sodexo.
Betterfly was founded in 2018 in Chile by brothers Cristóbal and Eduardo della Maggiora and at first, it worked as an incentive program for physical fitness. In a few short years, the healthtech conquered its vertical in the country, and in 2022, the company became a Unicorn (being valued at over USD $1 billion) after raising USD $125 million in funding. The investment is reportedly being used to strengthen the company's international expansion, which includes entering the markets of the United States, Europe as well as other Latin American countries — where Betterfly already has a strong presence.
---
Healthatom
Chile's Healthatom provides technology solutions for small and medium-sized healthcare providers, with specific platforms to serve dental and general medicine clinics. The medlink and dentalink software facilitate the management and operation of health centers. They can store doctors' electronic records, patient records, treatment history, inventory and expense control, cash flow, payroll, insurance relationships, and teleconsultations data. Access to all this content can be done online, from anywhere, by any device. In the end, the startup offers software that facilitates complete control of everything that goes on in health centers so that professionals remain focused on ensuring the best care for their patients.
Healthatom was created in 2009 by engineers Roberto León, Daniel Guajardo, and Guillermo Medel, who came from the Universidad Tecnica Federico Santa Maria in Valparaíso, Chile. After more than a decade of operation, Healthatom has impressive numbers that reaffirm its position as one of the great technology companies operating in the health sector. The company has over 7,000 customers and more than 65,000 professionals using their solutions across 20+ countries. According to the firm, Healthatom also helps health centers facilitate 42 million patient consultations per year.
---
Examedi
Examedi is a Chilean startup that seeks to facilitate people's access to health by offering nursing services and laboratory tests directly at the patient's homes. Through its digital platform, people can quickly schedule the service they need and the health professional in the desired area will be sent to their home or will contact them online to provide personalized care. Among the services offered are at-home blood and urine tests, telemedicine consultations, vaccinations, nutrition, kinesiology, mental health care, and many other forms of care. After collecting samples for tests, the results are forwarded to patients by email or even WhatsApp.
Examedi was born in 2020 by Ian Lee, Juan Pablo Zepeda Nuñez, Andrés Kemeny and Alberto Albagli. The creators saw how easy it was for people to order food online and get it delivered to homes, and at the same time, how difficult it was to schedule in-home medical exams. During the Covid-19 pandemic, Examedi started offering PCR tests through online appointments. Over time, the business grew and the company also started to carry out online scheduling for various types of medical tests, vaccination, scheduling of medical appointments, and other services. Today, Examedi has operations in Chile and Mexico.
---
Nisum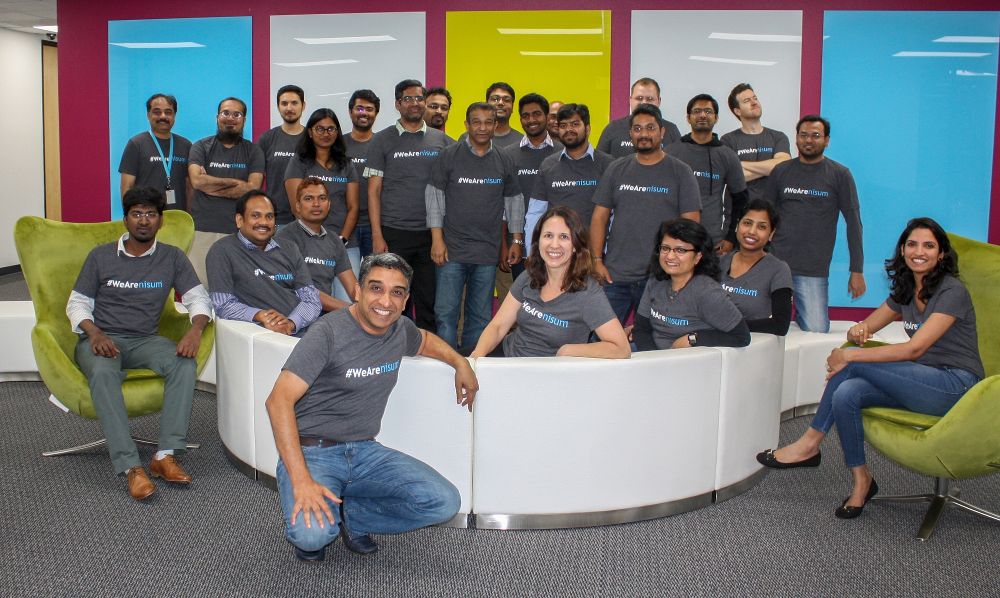 Nisum is a leading technology consulting partner based in Silicon Valley. The company specializes in designing and building custom digital commerce platforms, offering services in software development, digital strategy and transformation, insights and analytics, business agility, and blockchain. Founded in 2000, Nisum has experienced significant growth, currently employing nearly 2,000 professionals across North America, Latin America, India, and Pakistan. The company has established 11 offices in 7 countries globally.
As the preferred advisor to leading Fortune 500 brands, Nisum plays a pivotal role in helping its clients achieve measurable business growth. By developing advanced technology solutions, the company enables its clients to deliver superior customer experiences in today's highly competitive market.
Disclosure: This article mentions a client of an Espacio portfolio company.